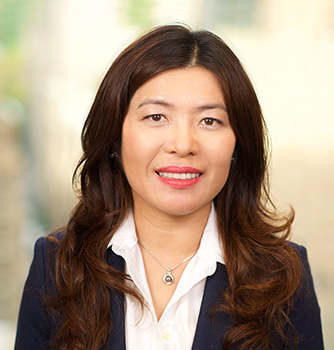 back
Prior to joining Rosemawr in September 2014, Ms. Chien was the Controller and Director of Operations for MeehanCombs, LP., where she was responsible for all aspects of MeehanCombs, LP. accounting, tax filings, financial reporting and operations. Ms. Chien previously served as Controller at Harbinger Partners, LLC. Ms. Chien joined Harbinger after serving as Vice President and Controller at Plainfield Asset Management. Prior to Plainfield, Ms. Chien was a Senior Controller at OpHedge Investment Services, LLC and Controller at Black Diamond Capital Management, LLC. Ms. Chien received a B.B.A. in Accounting from the University of Hawaii Manoa and an M.B.A. from the University of Illinois at Urbana-Champaign. Ms. Chien is a Certified Public Accountant.
Terms of Use
Legal Notices and Terms of Use
By entering our website ("site"), you acknowledge your agreement with and understanding of the following Legal Notices and Terms of Use pertaining to this site including all material on it. These legal notices may be updated by us at any time. Your continued use of the site after any such modifications shall constitute your acceptance of these legal notices and terms of use. If you do not agree to receive these legal notices and to abide by these terms of use for any reason, please do not use this site.
No Offer or Advice
You acknowledge that the content of this site is for general, informational purposes only and is not intended to constitute an offer to sell or buy any securities or promise to undertake or solicit business, and it may not be relied upon in connection with any offer or sale of securities.
No Warranties
We have compiled this site in good faith and while we use reasonable efforts to include accurate and up-to-date information on this site, the site is provided on an "as is" basis with no warranties of any kind. We do not warrant that the information on the site is accurate, reliable, up to date or correct, that this site will be available at any particular time or location, or that this site is free of viruses or other harmful components. Your use of this site and use or reliance upon any of the materials on it is solely at your own risk.
Confidentiality
All information available through the privileged area of the site is confidential and proprietary to us. This includes all investment information and results, offering materials, financial statements and other information provided through this part of the site. You will use your best efforts to keep all this information strictly confidential. You will not disclose any of this information to any person or use it for any purpose other than those strictly permitted by us, in writing.
Password Protection
Portions of this site that require a password and permission to access the contents therein are intended only to be viewed by individuals so authorized. Any person that requests access to such contents represents that, to the best of such person's knowledge, after due inquiry, such person is permitted by the laws of such person's jurisdiction of residence to access this site and the information contained herein. To the fullest extent permitted by applicable law, Rosemawr Management expressly disclaims any and all liability whatsoever for errors and omissions in any information or materials, and for any use or interpretation by others of any information or materials, contained in or accessible through the site.
International Use
This site is operated and controlled by us in the United States. Due to the global nature of the Internet, this site may be accessed by users in countries other than the United States. We make no warranties that materials on this site are appropriate or available for use in such locations. If it is illegal or prohibited in your country of origin to access or use this site, then you should not do so. Those who choose to access this site outside the United States do so on their own initiative and are responsible for compliance with all local laws and regulations.
This material is intended for information purposes only, and does not constitute investment advice, a recommendation or an offer or solicitation to purchase or sell any securities, funds or strategies to any person in any jurisdiction in which an offer, solicitation, purchase or sale would be unlawful under the securities laws of such jurisdiction.
Ownership
All content included on this site, such as graphics, logos, articles and other materials, is the property of our organization or others and is protected by copyright and other laws. All trademarks and logos displayed on this site are the property of their respective owners, who may or may not be affiliated with our organization. Nothing contained on this site should be construed as granting, by implication, estoppel, or otherwise, any license or right to use any content or trademark displayed on this site without the written permission of our organization or such other third party that may own the content or trademark displayed on this site.
Restrictions on Use
Our prior permission is required for any commercial use of materials on this site. You warrant that when using this site you shall not violate or facilitate any violation of any applicable local, state, federal or international law, statute, regulation, code or ordinance, including, without limitation, regulations promulgated by or the rules of any national or other securities exchange. The permission to use this site granted by this terms of use automatically terminates if you breach any of the terms and conditions contained herein.
Limitation of Liability
We are not responsible for any damages or injury, including but not limited to special, indirect, incidental or consequential damages, that result from your use of (or inability to use) this site, including any damages or injury caused by any failure of performance, error, omission, interruption, defect, delay in operation, computer virus, line failure, or other computer malfunction. You understand and agree that your use of this site is predicated upon your waiver of any right to sue us or its affiliates directly or to participate in a suit for any losses or damages resulting from your use of this site.
Links from Other Websites
This site may contain links to, or may be linked from, other sites that are not maintained by us and to which we have not provided permission. We do not endorse, have any responsibility for, or make any representations about, any other sites, including their products and services, content, communications and website use policies. We expressly disclaim any responsibility for your access to or use of such other sites.
Governing Law
You agree that your use of this site and any disputes relating to any of them shall be governed in all respects by the laws of the State of New York. Any dispute relating to the above shall be resolved solely in the state or federal courts located in New York, New York.
Contact Information
Thank you for visiting our site. Please contact us by visiting the Contact Us section of this site if you have any questions about our site, the legal notices or terms of use. Electronic mail or other communications through this site to Rosemawr Management LLC (or any of its employees, agents or representatives) are not secure and we do not guarantee the confidentiality of such communications.
Privacy Notice
Rosemawr Management LLC – Privacy Notice
Last updated January 4, 2021
Introduction
Your privacy is very important to us. Rosemawr Management LLC ("Rosemawr Management") recognizes the importance of protecting your privacy and is committed to protecting your personal data. This notice (this "Privacy Notice") is provided by Rosemawr Management and each investment account or pooled investment vehicle advised or managed by Rosemawr Management (each a "Fund", and together with Rosemawr Management "we" or "us"), and sets forth the policies of Rosemawr Management and the Funds for the collection, use, storage, sharing, disclosure (collectively, "processing") and protection of personal data through the use of this website, or otherwise, including any data you may provide when you enter into a transaction with us. This Privacy Notice is being provided in accordance with the requirements of data privacy laws, including the EU General Data Protection Regulation 2016/679 ("GDPR"), the US Gramm-Leach-Bliley Act of 1999 as amended, the Cayman Data Protection Law 2017, or any other law relating to privacy or the processing of personal data and any statutory instrument, order, rule or regulation implemented thereunder, each as applicable to Rosemawr Management and the Funds (collectively, "Data Protection Law") References to "you" or a "user" or an "investor" in this Privacy Notice mean any user who is an individual and who is a legal person (each such individual, a "data subject"), as applicable.
California residents should also review our California Privacy Notice.
The types of personal data we may collect and use
The categories of personal data we may collect on this website include names, residential addresses, phone numbers, email addresses, or other contact details. Rosemawr Management may also collect from users - signatures, nationality, tax identification number, date of birth, place of birth, photographs, copies of identification documents, bank account details, information about assets or net worth, credit history, source of funds details or other sensitive information, such as certain special categories of data contained in the relevant materials or documents.
How we collect personal data
We may collect personal data about you through: (i) information provided directly to us by you, or another person on your behalf; (ii) information that we obtain in relation to any transactions between you and us; and (iii) recording and monitoring of telephone conversations and electronic communications with you as described below.
We also may receive your personal information from third parties or other sources, such as our affiliates, our administrator, publicly accessible databases or registers, tax authorities, governmental agencies and supervisory authorities, credit agencies, fraud prevention and detection agencies, or other publicly accessible sources, such as the Internet.
Using your personal data: the legal basis and purposes
We may process your personal data for the purposes of administering the relationship between you and us (including communications and reporting), direct marketing of our products and services, monitoring and analyzing our activities, and complying with applicable legal or regulatory requirements (including anti-money laundering, fraud prevention, tax reporting, sanctions compliance, or responding to requests for information from supervisory authorities, or law enforcement agencies, with competent jurisdiction over our business). Your personal data will be processed in accordance with Data Protection Law and may be processed with your consent, upon your instruction, or for any of the purposes set out herein, including where we or a third-party consider there to be any other lawful purpose to do so.
Where there is suspicion of unlawful activity, failure to provide personal data may result in the submission of a report to the relevant law enforcement agency or supervisory authority.
How we may share your personal data
We may disclose information about you to our affiliates or third parties, for our everyday business purposes, such as to facilitate transactions, maintain your account(s) or respond to court orders and legal investigations. We will also release information about you if you direct us to do so.
We may share your information with our affiliates for direct marketing purposes, such as offers of products and services to you by us or our affiliates. You may prevent this type of sharing by contacting us at (212) 286-9474. If you are a new user, we can begin sharing your information with our affiliates for direct marketing purposes 30 days from the date we sent this Privacy Notice. When you are no longer our user, we may continue to share your information with our affiliates for such purposes. We may also disclose information about your experiences with us to our affiliates for their everyday business purposes. We do not share your information with non-affiliates for them to market their own services to you.
Monitoring of communications
We may record and monitor telephone conversations and electronic communications with you for the purposes of: (i) ascertaining the details of instructions given, the terms on which any transaction was executed or any other relevant circumstances; (ii) ensuring compliance with our regulatory obligations; and/or (iii) detecting and preventing the commission of financial crime.
Retention periods and security measures
We will not retain personal data for longer than is necessary in relation to the purpose for which it is collected, subject to Data Protection Law. Personal data will be retained for the duration of your investment in a Fund and for a minimum period of five to seven years after a redemption or withdrawal, as applicable, of an investment from a Fund or liquidation of a Fund. We may retain personal data for a longer period for the purpose of marketing our products and services or compliance with applicable law. From time to time, we will review the purpose for which personal data has been collected and decide whether to retain it or to delete if it no longer serves any purpose to us.
To protect your personal information from unauthorized access and use, we apply organizational and technical security measures in accordance with Data Protection Law. These measures include computer safeguards and secured files and buildings. We will notify you of any material personal data breaches affecting you in accordance with the requirements of Data Protection Law.
International transfers
Because of the international nature of a fund management business, personal data may be transferred to countries outside the EEA ("Third Countries"), such as to jurisdictions where we conduct business or have a service provider, including countries that may not have the same level of data protection as that afforded by the Data Protection Law in the EEA. In such cases, we will process personal data (or procure that it be processed) in the Third Countries in accordance with the requirements of the Data Protection Law, which may include having appropriate contractual undertakings in legal agreements with service providers who process personal data on our behalf in such Third Countries. We may also be required to transfer your personal information to our regulators or government agencies in Third Countries in cases where such transfers are necessary in the context of administrative proceedings, such as requests for information, examinations or investigations, or to other relevant parties in Third Countries where it is necessary for the purposes of establishing, bringing, or defending legal claims, or for another legitimate business purpose, such as compliance with our legal or regulatory obligations under foreign law.
Your rights under Data Protection Law
Data subjects have certain rights under Data Protection Law in relation to our processing of their personal data and these may include: (i) the right to request access to your personal data; (ii) the right to request rectification of your personal data; (iii) the right to request erasure of your personal data (the "right to be forgotten"); (iv) the right to restrict our processing or use of personal data; (v) the right to object to our processing or use where we have considered this to be necessary for our legitimate interests (such as in the case of direct marketing activities); (vi) where relevant, the right to request the portability; (vii) where your consent to processing has been obtained, the right to withdraw your consent at any time; and (viii) the right to lodge a complaint with a supervisory authority. You should note that your right to be forgotten that applies in certain circumstances under GDPR is not likely to be available in respect of the personal data we hold, given the purpose for which we collect such data, as described above.
You may contact us at any time to limit our sharing of your personal information. If you limit sharing for an account you hold jointly with someone else, your choices will apply to everyone on your account. US state laws may give you additional rights to limit sharing.
Cookies
Cookies are used by nearly all websites and do not harm your system. If you want to check or change what types of cookies you accept, this can usually be altered within your browser settings.
We may use cookies to track your use of our website. This enables us to understand how you use the site and track any patterns that emerge individually or from larger groups. This helps us to develop and improve our website and services in response to what our visitors want and need.
This site uses Google Analytics cookies, a web analytics service provided by Google, which sets a cookie in order to understand how you use and interact with this website and to compile meaningful site traffic reports. More information on how Google Analytics uses cookies can be found at http://code.google.com/apis/analytics/docs/concepts/gaConceptsCookies.html
Third-party links
This website may include links to other sites operated by third parties. We do not control these third-party websites and are not responsible for their privacy statements. When you leave our website, we encourage you to read the privacy policy of every website you visit.
Who to contact about this Privacy Notice
Please contact Rosemawr Management by telephone at (212) 286-9474 or by email at info@rosemawr.com or by writing to 810 Seventh Avenue, 27th Floor, New York, NY 10019 for any questions about this Privacy Notice or requests with regards to the personal data we hold.
Privacy Notice For California Consumers
This notice contains disclosures required by the California Consumer Privacy Act ("CCPA"), is only relevant to residents of California, and applies only to the collection or other use of "personal information" that is subject to the CCPA.
Information We Collect. In the past 12 months, we have collected the following categories of personal information about California consumers: A real name, alias, email address, postal address, Internet Protocol (IP) address, account name, Social Security number, driver's license number, or other similar personal identifiers, a signature, physical characteristics or description, telephone number, education, employment, employment history, bank account number, any other financial information, age, citizenship.
Use of Personal Information. We may use the personal information we collect for one or more of the following purposes:
Providing you with information about our products and services;
Providing performance and other updates;
One or more of the following business purposes:
Performing services (for us or our service provider) such as account servicing, processing orders and payments, and analytics;
Auditing related to our interactions with you (e.g., counting ad impressions to unique visitors, verifying positioning/quality of ad impressions, and auditing compliance, etc.);
Legal compliance;
Detecting and protecting against security incidents, fraud, and illegal activity;
Internal operations;
Activities to maintain and improve our services; and
Short-term, transient use, provided that the personal information is not disclosed to another third party and is not used to build a profile about a consumer.
Sharing Personal Information. We may disclose personal information in one or more of the categories identified above to:
Service providers, including but not limited to: administrators, auditors, law firms, consultants;
Affiliates;
Business partners;
Legal or government regulatory authorities as required by applicable law; and
In connection with a potential business transfer.
In the past 12 months, we have not sold any personal information (including any information about minors under 16 years of age) we collect to third parties, and we have shared the categories of personal information we collect only as set forth above.
Rights of California Consumers. The CCPA provides a California consumer the following rights, subject to certain exceptions and limitations:
The right to request (a) the categories and specific pieces of personal information we collect, use, disclose, and sell about you, (b) the categories of sources from which we collected your personal information, (c) our purposes for collecting or selling your personal information, (d) the categories of your personal information (if any) that we have either sold or disclosed for a business purpose, and (e) the categories of third parties with which we have shared personal information;
For certain categories of personal information, the right to request a list of what personal information (if any) we disclosed to third parties for their own direct marketing purposes in the past 12 months and the names and addresses of those third parties;
The right to request that we delete the personal information we have collected from you or maintain about you;
The right to opt out of our sale(s) (if any) of your personal information; and
The right not to receive discriminatory treatment for the exercise of the privacy rights conferred by the CCPA.
You may submit requests relating to your exercise of rights under the CCPA to us: via phone at (212) 286-9474; or via email to info@rosemawr.com.
We may need to request additional information from you to verify your identity or understand the scope of your request. In verifying requests, we will require you to provide, at a minimum your name and email address. If we are unable to verify your identity, we will need to deny your request.
You may designate an authorized agent to make a CCPA request on your behalf by mailing two forms of identification showing your first name, last name, and current address, and a signed authorization allowing an agent to request information on your behalf.
Disclosures
The content contained in this website are for informational purposes only and your visit to this Site is subject to our Terms of Use and Privacy Policy. The information is not intended as an offer to buy or a solicitation of an offer to sell any securities or other financial instruments. Investing with Rosemawr Management LLC ("Rosemawr") is not suitable for all investors. Investors must have the financial ability, sophistication/experience and willingness to bear the risks of investing in Rosemawr. This website does not take into account the investment objectives, financial situation, or particular needs of any particular person. Investing in securities and other financial products entails certain risks, including the possible loss of the entire principal amount invested.
There can be no assurance that an investment strategy will be successful and no representation is made that your investment objectives will be achieved by Rosemawr. In addition the risk management techniques which may be utilized by Rosemawr cannot provide any assurance that an investment will not be exposed to risks of significant trading losses. Rosemawr may use leverage and other speculative investment practices or trading strategies that may increase the risk of investment loss. For example, Rosemawr may invest in derivatives instruments. Derivatives may permit extremely high degrees of leverage and expose Rosemawr to, among other things, volatility, market illiquidity, market risks, legal risks, operational risks and risks of loss. Volatility and returns depend on a variety of factors including overall market conditions, unpredictable economic and political events, and the ability of Rosemawr to implement its investment process, investment objectives and risk management strategies. Volatility may be caused by, among other events, unpredictable economic and political events that may cause sudden and severe reductions in the value of the portfolio's investments.
Rosemawr's offering documents are not reviewed or approved by federal or state regulators and interests in the vehicles it manages are not federally or state registered. Rosemawr is a registered investment adviser with the U.S. Securities and Exchange Commission (SEC). Registration with the SEC does not imply a certain level of skill or training.
THE PAST PERFORMANCE OF ANY INVESTMENT, INVESTMENT STRATEGY, OR INVESTMENT STYLE IS NOT INDICATIVE OF NOR A GUARANTEE OF FUTURE PERFORMANCE.
No representation is made that Rosemawr's investment processes, investment objectives, goals or risk management techniques will or are likely to be achieved or successful, or that an investment in a portfolio or any underlying investment will make any profit or will not sustain losses. Rosemawr does not provide tax advice and nothing contained herein is intended to be, or should be construed as, tax advice. Nothing contained herein constitutes investment, legal, tax or other advice nor is it to be relied on in making an investment or other decision.
The above summary is not a complete list of the risks, tax considerations and other important disclosures involved in investing in Rosemawr and is subject to more complete disclosures in the relevant governing documents. Such documents must be reviewed carefully prior to making an investment. Copyright © Rosemawr Management LLC 2021. All rights reserved.